Neya Dermatology & Aesthetics
Best Skin Clinic In Hyderabad
Neya Dermatology & Aesthetics was founded by Dr. Ravali Yalamanchili and Dr. Raveesh Sunkara. Dr. Hemanth Kumar, a consultant plastic and cosmetic surgeon, is also a key team member. Neya Clinic, the best skin clinic in Hyderabad, is located in Jubilee Hills, Hyderabad, an affluent suburban area in the western part of Hyderabad, Telangana. The clinic's prime location makes it the best choice, as the area is home to A-listers like actors, politicians, and business tycoons. Intending to effectively address all dermatological and aesthetic concerns, the expert team at Neya Clinic combines their dermatology and plastic surgery expertise. Thus, you'll get nothing but the best in medical skincare and bodycare at the clinic.

Neya Clinic, headed by Dr. Ravali Yalamanchili and her qualified team of technicians, takes pride in the advanced services they provide. Our mantra involves providing respect, building trust, and following ethical and standard approaches. Neya Clinic is considered as the best skin clinic in Jubilee Hills, Hyderabad, for the standards we uphold and the respect, trust, and ethics we have for our patients. Our clinic covers all areas of skin, hair, aesthetics, plastic surgery, and dermatosurgery under one roof. Our clinic has the most up-to-date techniques, options for treatments and procedures, and knowledge to help achieve your unique requirements. Q-switched Nd: YAG lasers, MNRF, HIFU, and other cutting-edge technologies are a few of the ones used.
Why Choose 'Neya Dermatology & Aesthetics' Clinic- Best Skin Clinic In Hyderabad
Neya Dermatology & Aesthetics stands out as the best skin clinic in Hyderabad, offering unparalleled expertise, the best treatments, advanced technology, excellent results, and a commitment to enhancing your skin health and beauty. Choose excellence, choose Neya clinic for radiant and healthy skin
Choose 'Neya Dermatology & Aesthetics' because you will get the following services at the most affordable cost here:
Pigmentation & Skin Glow
Acne & Scars Treatment
Hair Treatments
Facial Skin Rejuvenation
Stretch Marks
Aging Skin
Facial Contouring
Unwanted Body Hair
Skin Allergy
Infections
Medical Facial
General Dermatology
'Neya Dermatology & Aesthetics' Clinic has qualified doctors who provide top dermatology treatments. They utilize FDA-approved equipment, the best medications, and advanced technology to provide excellent results.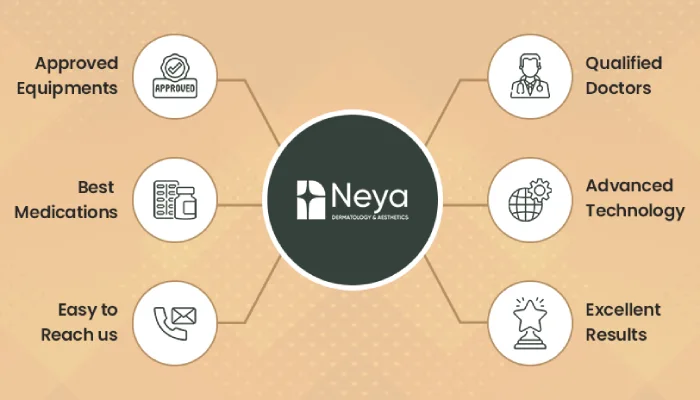 Learn About Our
Core Values
Unparalleled Expertise
Specialists in dermatology and plastic surgery with over 25 years of combined experience.

Value for Money
We provide expert care at an affordable cost using best-in-class technology & treatments.
Customized Care
Everyone has a unique body type. We make customized treatment plans for the best care.
Accessibility
We are located in a prime location with ultra-facilities and aim for ease of access for everyone.
A Scientific & Mindful Approach
Dedicated specialists utilize scientific knowledge and ensure a mindful approach to patient care.
Clinic Gallery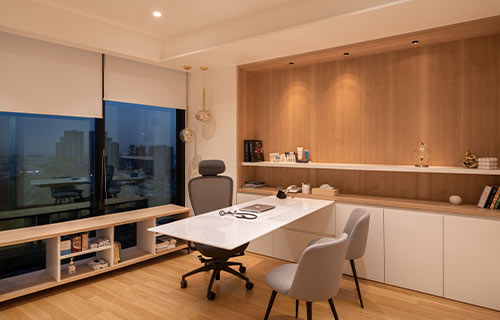 Frequently Asked Questions
What makes your skin care clinic the best in Hyderabad?
We have the best skin clinic in Hyderabad, Neya Dermatology & Aesthetics Clinic as it is located in the prime and most accessible area of the city with elegant and minimalist interiors. Most importantly, we optimize cutting-edge world-renowned FDA approved technology and with Dr. Ravali's experience of over 10 years in dermatology and aesthetics makes our clinic the best in the city.
What type of skin treatments do you offer at your clinic?
We offer acne, acne scar, hair loss, anti aging, lasers, unwanted hair removal, clinical dermatology and over 500 other treatments at Neya Dermatology & Aesthetics Clinic, the best skin care clinic in Hyderabad.
How many sessions of a particular treatment would I need to see results?
The number of sessions of any treatment depends on the condition and severity of the concern we are treating. Average number of 2-3 sessions are required to see the results for most procedures.
Are the treatments safe and what kind of precautions do you take?
All the treatments we do are science backed and safe. We make sure to evaluate the skin and do a patch test before proceeding with any treatment. We also advice the patients with pre and post care instructions.
What are the advantages of visiting a skin clinic?
It is essential to visit a best skin clinic in Hyderabad to recognize your skin type and related concerns. One can consult a renowned dermatologist at Neya Dermatology & Aesthetics Clinic. Further, the doctor evaluates the skin and provides professional assistance in combating skin conditions while improving overall skin quality.
Patients' safety and precautions against covid?
All the staff are trained in covid safety protocols. At Neya Dermatology & Aesthetics Clinic, the best skin and hair clinic in Hyderabad, we follow stringent SOPs for patient safety which is our primary goal.
Neya Dermatology & Aesthetics Clinic
Hill Top by Ista Homes,
3rd Floor, Plot No. 298,
Road No. 78, Jubilee Hills,
Hyderabad, Telangana - 500033.
Clinic Timings
Mon - Sat : 10:30 AM to 7:00 PM
Sunday : 10:30 AM to 5:30 PM
Request a Consultation
To learn about any treatment or to consult our expert dermatologist,
book an appointment with us now!