Skin Specialist in Hyderabad
Dr. Ravali Yalamanchili, (M.B.B.S., M.D. Dermatology) is one of the top-rated certified Skin specialist in Hyderabad. She is a compassionate dermatologist currently practising at Neya Aesthetics & Dermatology Clinic.

She is also the founder and Director of a leading dermatology clinic, Neya Aesthetics & Dermatology Clinic. Her specialisation lies in the diagnosis and treatment of cases associated with medical, surgical, and aesthetic treatments of the skin and hair. She ensures that each of her patients receives holistic, superior-quality care and exceptional services within their budget.

Dr. Ravali Yalamanchili, skin specialist in hyderabad uses her expertise to help people prevent their skin and hair problems and treat common ailments like acne, dermatitis, infections, hair fall/loss, canker sores, moles, nail problems, melanoma, lichen planus, and lymphoma. She holds years of experience in general, cosmetic, and surgical dermatology. To date, Dr. Ravali Yalamanchili has best addressed numerous complex skin and hair problems. Based on the patient's feedback, Dr. Ravali Yalamanchili has more than 80% of ratings and above 95% of recommendations.

Dr. Ravali Yalamanchili aims to provide world-class services in dermatology and cosmetology, enabling her patients to confidently feel and look their best. She ensures coverage of even minute details and strives for perfection in her work. Along with her team of dermatologists, she works hard to benefit people with the best medical treatments.

Connect to Dr. Ravali Yalamanchili at Neya Aesthetics & Dermatology Clinic in Hyderabad for an appointment today. She can speak English, Hindi, Telugu, and Kannada. Her consultation timings are flexible and her consultation fee can be checked on call. She feels very happy to welcome new patients to receive her services.
6 Reasons to Choose Dr. Ravali Yalamanchili - Skin Specialist in Hyderabad
Consult with Dr. Ravali Yalamanchili, a Skin specialist in hyderabad, at Neya Dermatology & Aesthetics Clinic. She offers medically proven, cost-effective treatment procedures without compromising treatment quality, helping improve your appearance. She focuses on patient-centered care, employs advanced technologies for skin and hair treatments, and has expertise in aesthetic treatments such as laser hair removal, dermal fillers, HIFU, medi-facials, and more. With over 10 years of work experience, she offers a wide range of skin and hair treatments to help you achieve beautiful and healthy skin and hair.
Patient-Centered Care Approach
Uses Advanced Technologies for Skin and Hair Treatments
Helps you Achieve Healthy Skin and Hair
Expertise in Aesthetic Treatments
With over 10 years of work experience
Cost-Effective Treatment Procedures
Doctor Education & Experience
M.D. in Dermatology (Gold Medal), J S S Medical College, Mysore.
M.B.B.S., N.T. R University of Health Sciences.
Founder and Chief Dermatologist, Neya Dermatology and Aesthetics, 2022 – till date.
Consultant Dermatologist, Oliva Skin and Hair Clinic, Bengaluru, Hyderabad, India. 2016- 2022.
Fellowship in General Dermatology, aesthetics, lasers and dermatosurgery from National Skin Center (NSC), Singapore, 2018.
PG Trainee (Junior Resident), Dept. of Dermatology under supervision of Dr Veeranna. S – Professor, Dept of Dermatology, J S S Medical College, Mysore.
Consultant Dermatologist, Yogiraj Centre for Dermatology and Cosmetology, Bengaluru, India. 2016.
Extensive training programmes by Allergan and Galderma (GAIN) in fillers and Boto-x.
Recognitions
Life member of IADVL Karnataka branch 2012 till date.
Yalamanchili R, Shastry V, Betkerur J. Clinico-epidemiological study and quality of life assessment in melasma. Indian J Dermatol 2015;60:519.
Dr. Ravali Yalamanchili- Renowned Dermatologist in Hyderabad
Dr. Ravali Yalamanchili is a highly qualified dermatologist in Hyderabad. She holds a wealth of experience in branches of general dermatology, cosmetology (antiaging, lasers, peels, beautification), and trichology (hair and scalp).

Dr. Ravali Yalamanchili is known for her best therapeutic service for a wide range of skin or hair concerns. The common problems treated by her include sun damage, pigmentation disorders, fine lines and wrinkles, rosacea, acne, scars, eczema, psoriasis, moles, warts, skin infections/allergies, hair loss/fall, stretch marks, dull and dehydrated skin, and many others.

Dr. Ravali Yalamanchili, dermatologist in hyderabad stands out among others for her best diagnosis which involves identifying the root cause of each of her patient's skin or hair problems. Her practice involves understanding her patient needs, expectations, and goals of treatment and providing them with personalised, comprehensive care. To match and exceed her patient's expectations, she provides advice and support to her patients and those entrusted in her care at every step along the way of treatment.

She is a popular and one of best dermatologist in Hyderabad who offers all advanced procedures using cutting-edge technologies and ensuring unparalleled results. Her expertise is in chemical and laser peels, P-RP therapy, hair mesotherapy, hair transplantation, scalp microneedling, dermal fillers, anti-wrinkle injections, laser hair removal, and removal of moles/warts.

She is the best consultant dermatologist who provides expert advice on skin and hair care routines, and preventive measures and recommends suitable treatments to improve skin and hair health and overall well-being. At all times, the procedures and treatments provided by Dr. Ravali Yalamanchili, skin specialist in hyderabad are ensured to be safe and highly effective.
Conditions Treated by Dermatologist in Hyderabad
Dermatologists can treat different conditions that affect your skin, hair, and more. The most common conditions treated by the best dermatologist in Hyderabad include- Acne Treatment, Acne scar reduction, Hair Fall Treatment, Pigmentation, Laser Hair Removal, Open Pores, Facial Contouring, Skin Glow, and more.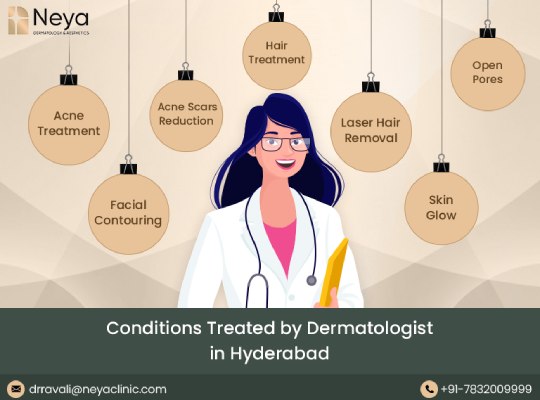 Why Patients Choose Dr. Ravali Yalamanchili
There are many choices available out there when choosing the best dermatologist to meet personal needs. If you are screening for the top recommended dermatologist in Hyderabad, you can go for Dr. Ravali Yalamanchili.

Dr. Ravali Yalamanchili is at the top list of dermatologists in Hyderabad. Many patients sought after her as she:
Got her residencies, training, and fellowships at the most prestigious college and hospitals.
Has long and distinguished backgrounds in practising general and cosmetic dermatology as well as paediatric dermatology, surgical dermatology, and dermatopathology.
She meets her patient's medical and aesthetic needs as well as their personal preferences. Provides a wide range of skin and hair treatments to help achieve beautiful and healthy skin and hair.
Offers all long-term and state-of-the-art dermatology and cosmetology-associated solutions. Shows commitment to customise skin and hair treatments.
Keeps her patient's safety, comfort, and safety at the topmost priority. Has a good reputation and ratings reported by patients and so is reliable and trustworthy.
Provides unparalleled compassion for her patients along with easy and affordable skincare and haircare services.
Uses FDA-approved equipment for procedures. Delivers top-quality services to people of all ages. Has warm, welcoming, and knowledgeable support staff.
Takes pride in providing a standard of pre and post-treatment care. Gives timely responses She employs result-oriented procedures to ensure her patient's maximum healing and satisfaction
Stands out to be a one-stop specialist for handling all skin, hair, and laser issues. Builds good relations with her patients and so is quite famous among celebrities and eminent personalities.
Frequently Asked Questions
How do skin doctors or dermatologists help tackle your skin issues?
People experiencing unresolved skin issues, whether on their own or with the assistance of a general physician, should consider consulting a specialised professional-such as a dermatologist. No one else but a dermatologist can closely examine and understand someone's skin.
Dermatologists in Hyderabad, Dr. Ravali Yalamanchili at Neya Dermatology and Aesthetics is known to be a specialist in the diagnosis and treatment of all kinds of skin issues. Without wasting much time and using her expertise, she can diagnose complex skin issues and spot minute differences in every specific condition. They can help find the root cause of someone's skin problem or at least provide an aesthetic fix.
Dr. Ravali Yalamanchili, skin specialist in hyderabad and her team use advanced tools and techniques to care for someone's skin. They have expertise in any of the various sub-specialties or branches of dermatology: paediatric, cosmetic, aesthetic and surgical dermatology. Furthermore, they have the skill and experience needed for performing simple to complex medical, cosmetic, and surgical procedures. Getting in touch with a dermatologist in Hyderabad, Dr. Ravali Yalamanchili would also mean getting expert advice on skincare and guidance in building a good skincare routine.
Can dermatologists treat hair loss?
Yes, dermatologist in Hyderabad, Dr. Ravali Yalamanchili, has expertise in the diagnosis and treatment of hair loss. She can help find the root cause of hair loss and accordingly create the best treatment plan for people experiencing hair loss. Their recommended treatments can help people regrow hair quickly or prevent further hair loss. A treatment plan for hair loss may include prescription hair growth stimulating medications, corticosteroid injections, scalp microneedling, P-R-P therapy, hair mesotherapy, laser treatment, or hair transplant surgery.
How can a dermatologist help me get rid of acne and spots?
Acne and sun or age spots are common aesthetic skin concerns that anyone can face at some point in their lives. Dermatologists are skin care professionals who can help treat acne and pigmented spots by various methods. The right acne treatment plan by a skin specialist in hyderabad, Dr. Ravali Yalamanchili depends upon the type, location, and time of appearance of acne as well as the patient's age, treatments already tried, and whether acne has left behind dark spots or scars. Acne treatments recommended by Dr. Ravali Yalamanchili include acne medications, antibiotics, hormone therapy (in women), laser/light therapy, and carbon laser peel. Dark spots can be removed by dermatologists with treatments like laser therapy, chemical peels, microdermabrasion, cryotherapy, and prescription skin-lightening creams.
For what reasons do you see a dermatologist?
Dermatologists are worth a visit if you are experiencing any issues related to your skin, hair, or nails. They can help accurately diagnose and best possible treat your skin, hair, or nail concerns. Some of the common medical or cosmetic conditions for which you may consult a dermatologist include:
Acne and acne scars
Premature skin ageing
Hair fall or hair loss
Undesirable facial or body hair
Hives/Urticaria
Warts
Eczema
Psoriasis
Rosacea
Skin and nail infections
Skin discoloration or pigmentation problems.
You may even see Dr. Ravali Yalamanchili, skin specialist in hyderabad for an annual examination of skin that reveals overall health status and for recommendations on skincare routine and products.
What Age Should I Start Regularly Seeing a Dermatologist?
Even if your skin is clear and free of any embarrassing or problematic skin condition, it's good to start regularly seeing a dermatologist by the age of 25. As per skin specialist in hyderabad, Dr. Ravali Yalamanchili, annual skin examinations, starting from age 25, must be held early to catch any problems with the skin. That's because by mid-20s, ageing may take a toll on the skin, and sun exposure may have caused some damage. Many people also do not make the right choice of skincare products or don't have a proper skincare regimen at all, for which a dermatologist can help. In the case of existing skin conditions, it's necessary to see a dermatologist as soon as the conditions persist or aggravate.
Can a dermatologist help with ageing skin?
Yes, a dermatologist is an expert in caring for ageing skin. Dermatologist, Dr. Ravali Yalamanchili can help tackle ageing skin concerns by recommending the best skincare tips, anti-aging skincare products, and anti-aging treatments. They will recommend an anti-aging treatment plan based on one's skin type and the degree of attention required. The top dermatologist recommended non-surgical treatments for ageing skin including anti-aging facials, microdermabrasion, microneedling, laser resurfacing, chemical peels, soft tissue fillers, and Bo-tox. Scheduling a consultation with a dermatologist in Hyderabad can help someone find out what anti-aging treatments will work best for them.
Do I need a consultation before laser hair removal?
Yes, it's very much needed for you to consult a dermatologist in Hyderabad, Dr. Ravali Yalamanchili before going ahead with your laser hair removal session. This way, the dermatologist or practitioner will be able to determine your candidacy for the procedure, your skin type, and your hair type. During your initial consultation, the practitioner will discuss your treatment goals and expectations, hair growth cycle, skin condition, and current hair removal method. The practitioner will share details about the laser hair removal process including how the laser works, pre and post-treatment care, predicated treatment results, and benefits and risks. Once this is over, you will undergo a patch test to check which laser setting is safe for your skin. Typically, the consultation process lasts for about an hour.
Neya Dermatology & Aesthetics Clinic
Hill Top by Ista Homes,
3rd Floor, Plot No. 298,
Road No. 78, Jubilee Hills,
Hyderabad, Telangana - 500033.
Clinic Timings
Mon - Sat : 10:30 AM to 7:00 PM
Sunday : 10:30 AM to 5:30 PM
Request a Consultation
To learn about any treatment or to consult our expert dermatologist,
book an appointment with us now!